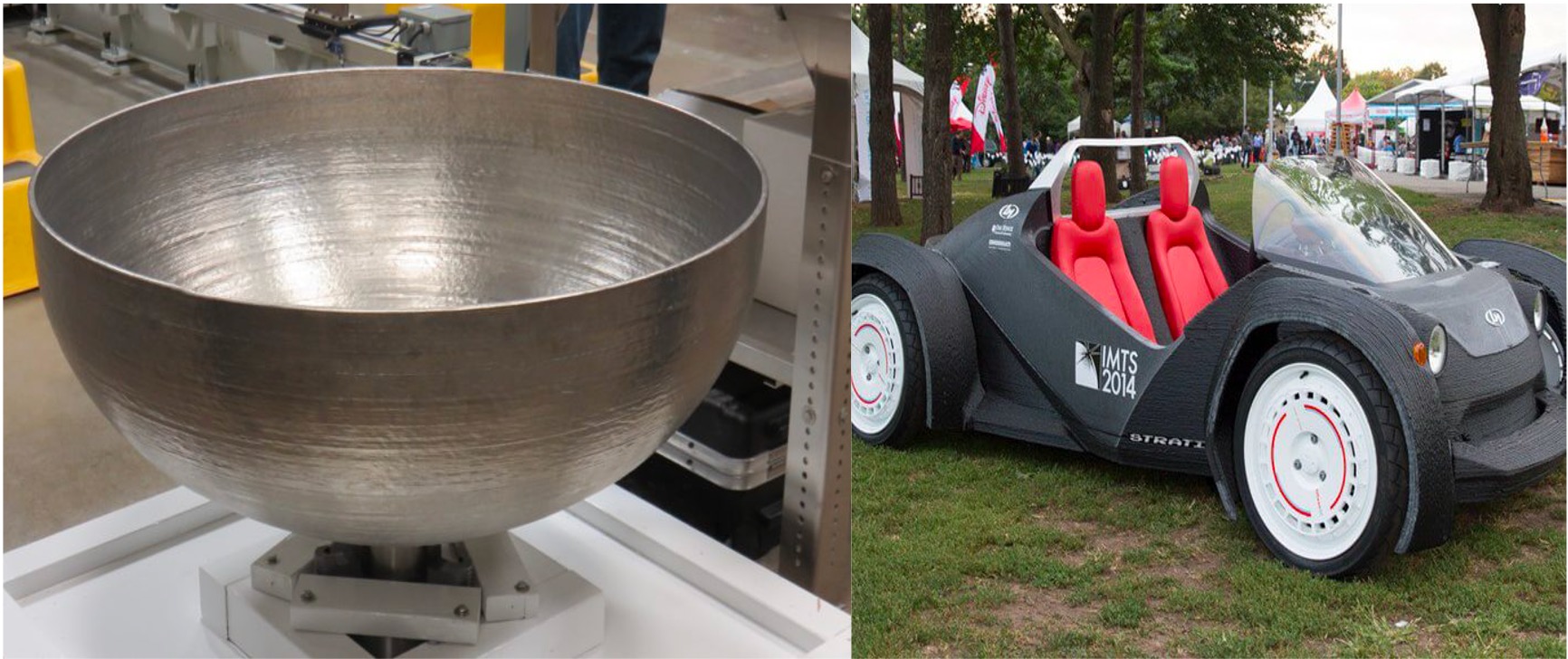 What is large format AM?
Currently available 3D printers are designed for making smaller parts used in automobiles, jewellery, aerospace etc. However, in the past few years, we've seen the advent of large-scale 3D printing of parts more than the one-meter size to tens of meters. Large-format additive manufacturing is one of the technologies to overcome the manufacturer's constraints regarding the production of large-size components. Parts of considerable size such as space rockets are large, heavy and complex in design and needed large manufacturing toolings and holding fixtures for production. Resulting in longer manufacturing lead times and higher production costs.
Additive manufacturing could come to the rescue of the manufacturers while producing large-size components at much lesser cost & faster lead time. The key advantage of additive manufacturing is that it can easily create objects of complex geometrical designs without the additional requirements of extra fixtures and tooling leading to lightweight structures, simplifying the assembly process and improving product performance.
Various large-format printers
BAAM (Big Area Additive Manufacturing)
BAAM system is one of the early AM machines available commercially developed by Oak Ridge National Laboratory in partnership with Cincinnati Inc USA. It's an FDM/FFF type 3D printer capable of printing large-size (up to 6x2.4x2m) objects in thermoplastics like ABS, PLA, polycarbonate, PEEK etc and at a faster rate. It has an extruder mounted on a large gantry which locates the extruder nozzle in x, y & z directions. Automotive parts, furniture items, cement casting molds and other large-scale public art could be created with this printer.
LSAM (Large Scale Additive Manufacturing)
LSAM is another polymer-based large format additive manufacturing system offered by thermwood based on FFF/FDM type extrusion process. It creates part in near net shape which can be machined to its final desired shape by the 5-axis CNC router mounted within the printer creating a sort of hybrid manufacturing system with a build volume is about 10x40 feet. LSAM could speed up part production rate than conventional manufacturing processes and can make production fixtures, molds, toolings etc.
Photo credits: Thermwood
BigRep
The BigRep machine is the cheapest available large format FDM/FF-based 3D printer in the market. It can print parts up to the volume of a one-meter cube and costs about 40~50K USD. This machine sits between the commonly available desktop FDM/FFF machines and large expensive industrial-grade 3D printers. It could be used to create parts for small cement molds, holding fixtures, creative art, furniture etc.
(WAAM) Wire Arc Additive Manufacturing
WAAM is the DED (Direct Energy Deposition) process of making large-size metal components in near net shape which can be machined to achieve the final design shape. An electric arc is used as a heat source instead of a high-intensity laser beam like other DED processes. The part is built over a base plate layer by layer controlled by a robotic arm and the part is separated from the base by a wire cut. Its capability to make near-net shape parts with complex shapes, tools, and dies could significantly reduce the overall cost of product manufacturing lead time, enhance product performance, and efficiency and reduce inventory costs.
Typical WAAM set-up. Photo credit: TWI
Large-format sand printing
Voxeljet manufactures large-size 3D printing machines to print three-dimensional geometries of sand. The printer uses binder jetting additive manufacturing technique which binds the sand particles together to unravel the design up to the size of 4x2x1 meters. Sand molds for metal castings are one of the main applications of the technology since it produces large-size molds faster and cost-effectively.