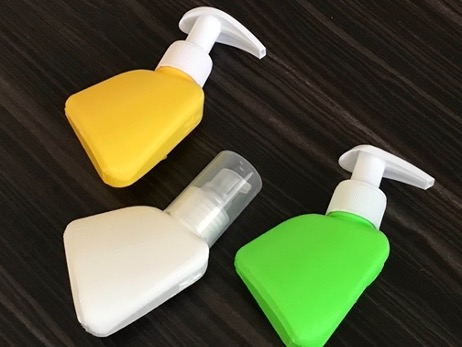 COVID-19 has made us learn one of the most important things is that staying alert and being prepared for the problem is the right way to avoid contracting the disease. While the world is on the recovery road from the outbreak, it's important that we all keep following the safety guidelines that were issued by all governments across the world like maintaining social distancing, face mask when going outside, and washing our hands frequently to stay safe from contracting the virus.
Secondly, while public places like stores, markets, restaurants, hotels etc have been asked to place Hand Sanitizer Stations within their premises. Most of the time there's just not enough sanitizer available for everyone. This brings us to the SanGenie™. Pune based innovative product design company Mechanovations has created SanGenie™ a compact personal hand sanitizer dispenser that can be worn over one's dress belt, convenient to both uses and carry.
This product provides the frontline covid warriors and general public quick and easy access to the disinfectant without leaving their immediate workspaces. This product is very cheap and comes with a complimentary sanitizer-gel refill. While the idea was formulated and various design options were being worked out, Mechanovations contacted 3DSculpLab to 3D print the prototypes of the iterations shown below.
Once the initial concepts are done, the next step is getting feedback if the idea is acceptable to the mass market. 3DSculpLab quickly provided 10 pieces of 3D printed units of the design to be distributed to the target customers like health workers, sanitation staff, office goers, Police staff etc. The company waited for a few days and later contacted the user for their feedback.
Initial trial prototypes were very well received by the targeted recipients and provided confidence to proceed for trials with a large customer base. Mechanovations decided to 3D print a lot of 100 pieces be distributed to a larger potential customer base. 3DSculpLab provided 100 additional pieces within a few days in two batches to help them carry out the feedback exercise. 3DSculpLab also helped them to quickly reach the targeted customer in the shortest possible time. It would have costs lots of money if these trials were carried out by the samples are made from the conventional manufacturing process that is blow molding.
Finally, all the trials were done, feedback data was collected, it's now time to analyze the data for further action. The customer was able to wrap up the entire project and extract relevant information within a few weeks.
Conclusion
The above case study proves how 3D printing could shorten the development lead time or marketing research project duration. The ability of 3D printing to quickly provide samples from zero to a few hundred is the real game-changer for every product designer to iterate fast and create a matured design for masses in the shortest possible time.
Blog created by - 3D SculpLab Team